Ten years ago when he purchased two adjoining lots in East Austin, TX, artist Beau Reichert saw beyond the homes in tear-down condition, to a vision for a 2.03-acre compound unlike any other.
"I built this retreat to connect artists with a community, and to provide a unique experience where everyone felt welcome," he said.
Unique cannot begin to describe the blend of authentic architecture and quirky art found on the property, which is currently listed for $2.999 million.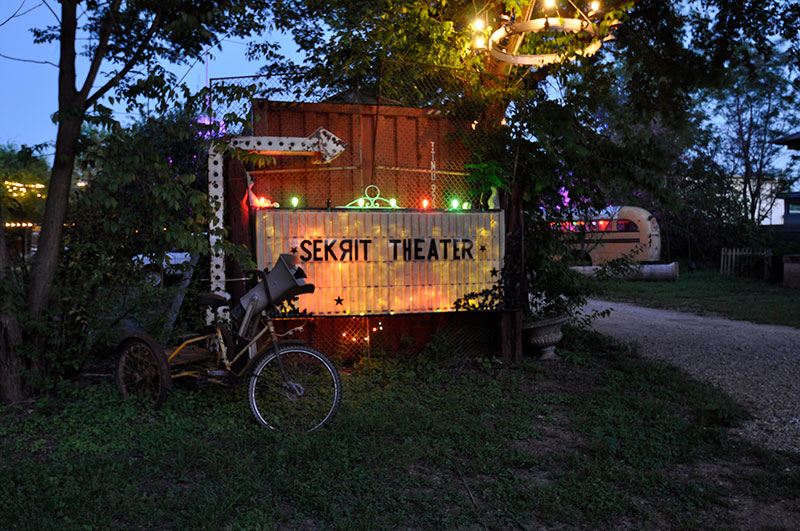 "A feast for the eyes," is how listing agent Patricia Vonne with Austin Music Realty describes the place. As with any feast, it can be difficult to know what to taste first or, in this case, where to look.
An octagonal grand pavilion takes center stage, looking like a mashup of circus tent and vintage carousel. Reichert used reclaimed wood from an antique barn to craft its bell-shaped roof.
The full-size outdoor cinema screen inspired the property's name: Austin's "Sekrit Theater." When the sun sets, Reichert holds private screenings. Along with black-and-white classics, he gives local artists a chance to show their latest films.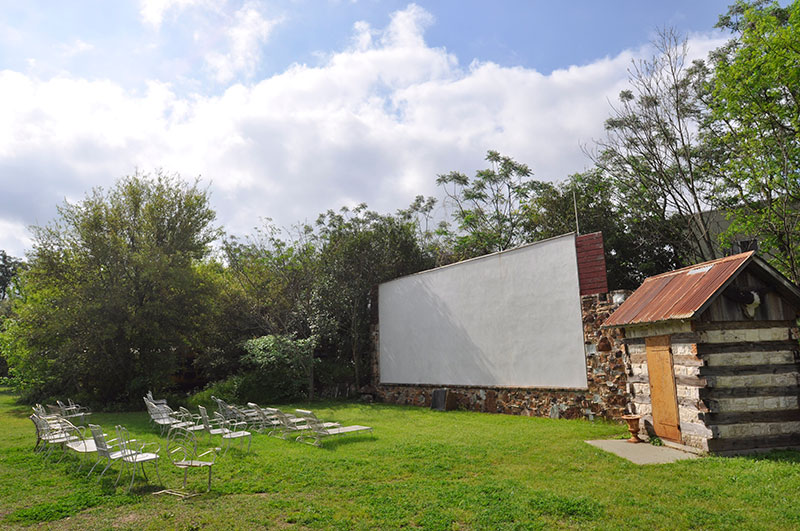 The ornate concession stand/projector house, lit by authentic fixtures from a Chicago theater, provides refreshment.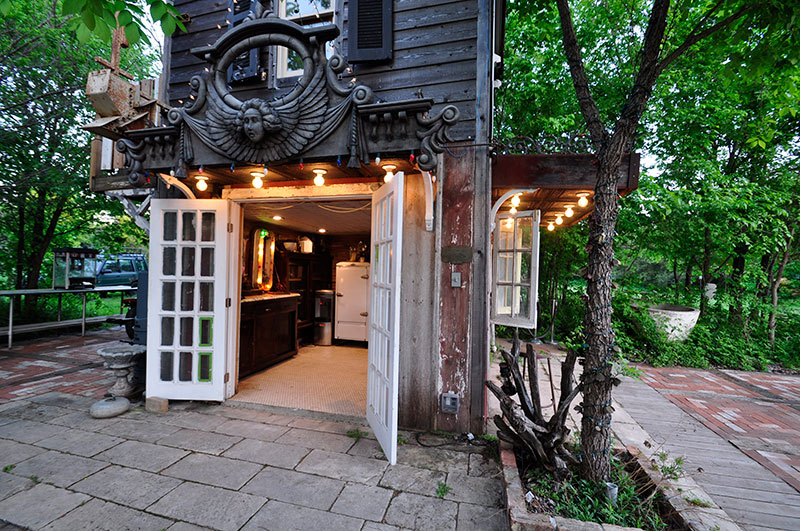 Next, a vintage school bus serves as a neon-lit hangout spot, and a clawfoot tub sits beneath a tree with a sparkling chandelier.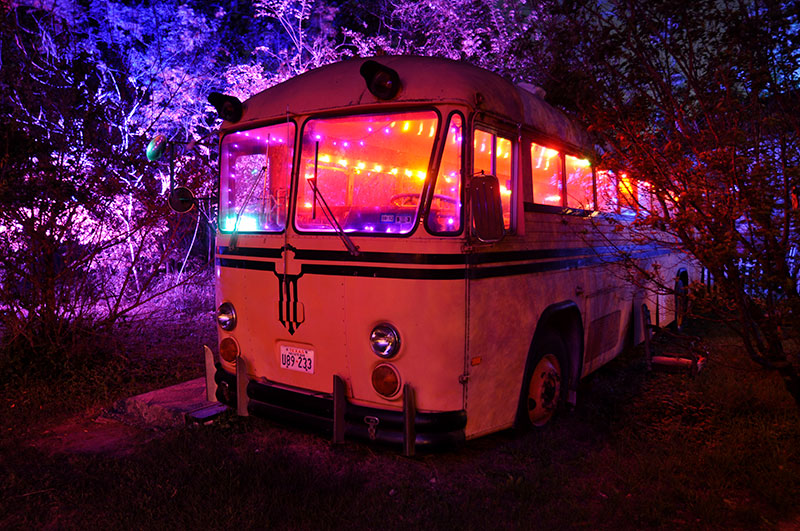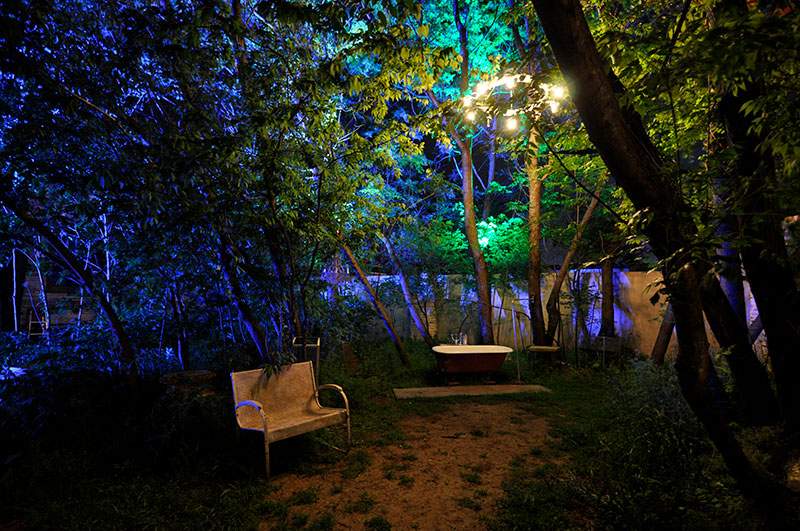 Reichert placed each of these buildings and artistic installations with intention, fanning out from a fountain he identified as the focal point of the retreat. All are connected by intricate pathways made with bricks from the first dorm at what is now Texas State University.
Behind the fountain stands the compound's most famous building: the glass house. This stunning structure, created to reflect the style of "Great Expectations," exhibits Reichert's skill with large-scale glass artwork. Used to host daytime weddings or private parties after dark, this house shines.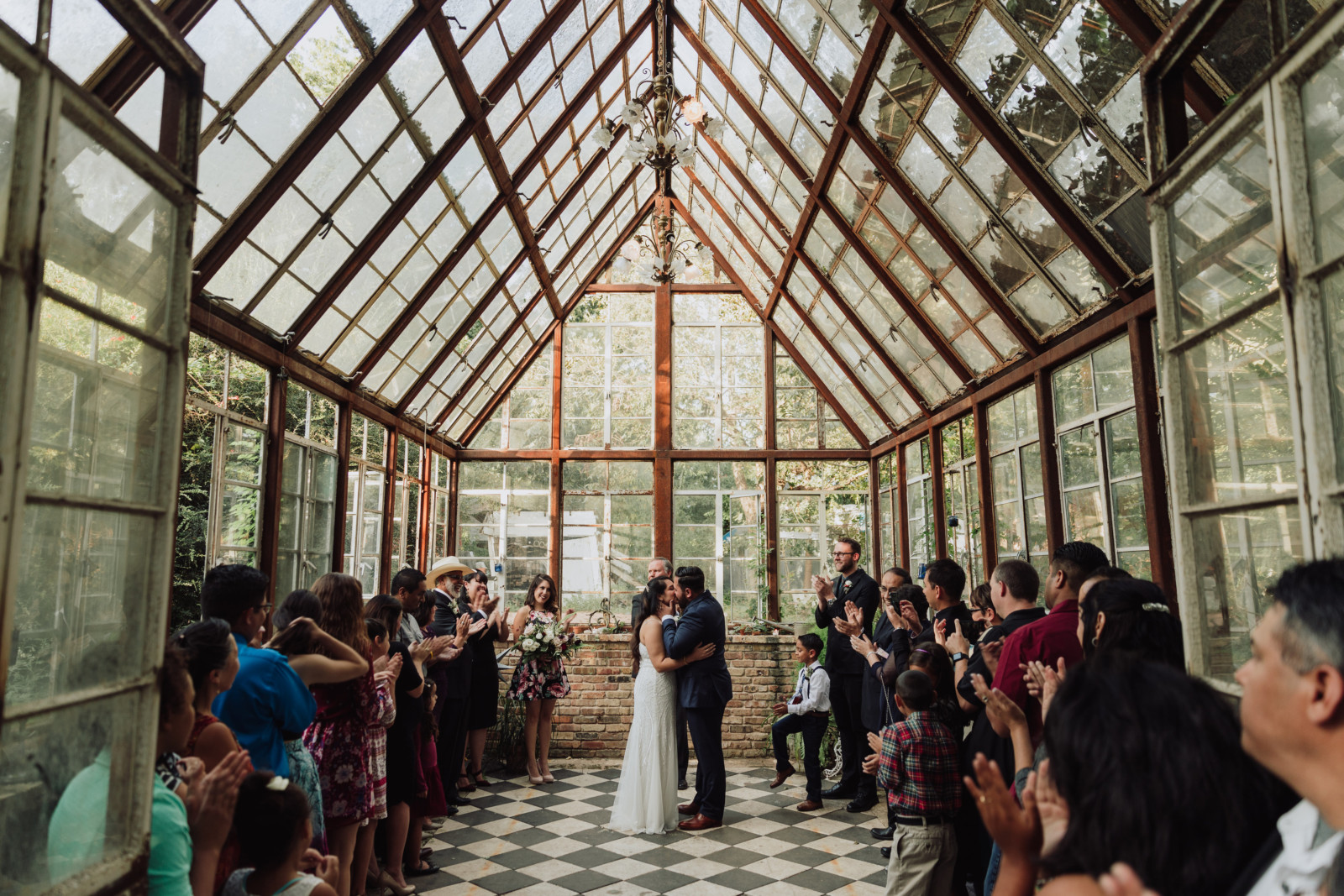 Recycled materials play a role in every building on Reichert's compound.
"There was a time when architecture really meant something. So, I strive to preserve the history and era of certain materials that have an architectural purpose but get thrown away," Reichert explained. "I strive to maximize the properties of architectural masterpieces that were built by real craftsman."
Turning the compound's main house into a masterpiece took some extreme measures. Reichert deconstructed the existing home down to its original foundation and rebuild it in a style he calls re-imagined southern French colonial. The gorgeous vaulted ceilings were created with fine woods and repurposed materials.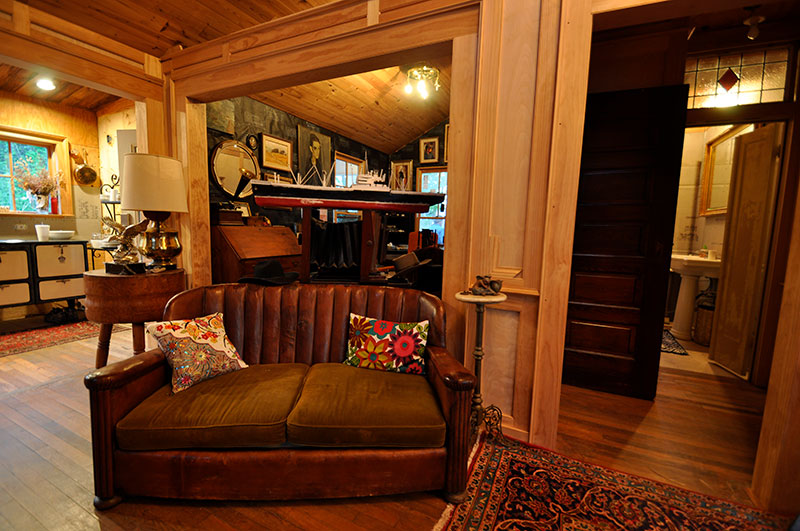 Touches of French architecture appear in many of the structures, some made with materials Reichert salvaged from New Orleans after Hurricane Katrina. The cinema's audio system is housed in a tiny log cabin with a slate roof from the 9th ward.
A final homage to The Big Easy is a 200-square foot shotgun-style tiny house fashioned after those in the Bywater district. The listing agent says this is where the property's new owner can create some income, turning the tiny residence into a bed and breakfast.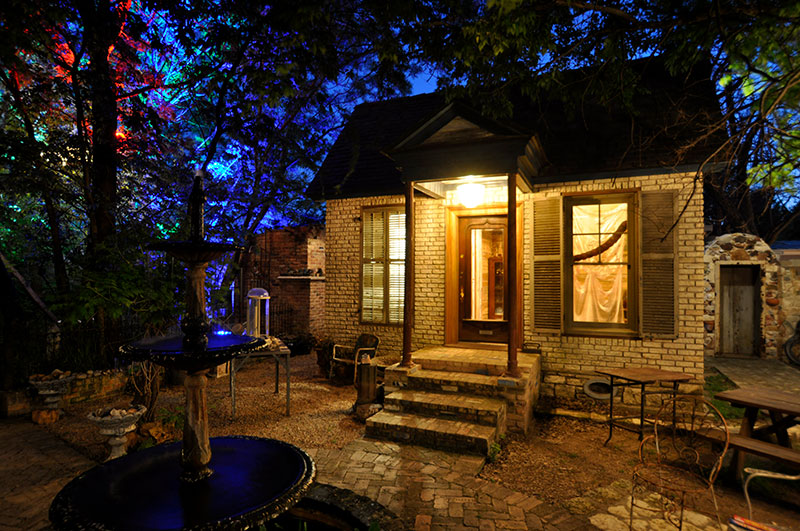 His dream of an artistic compound now realized, Reichert's taking everything learned to a new blank canvas: a 200-acre plot of land in Santa Fe, NM.
"My vision is to build an artist's sanctuary just outside of Santa Fe, New Mexico and create a healthy, happy, artistic environment for people," Reichert said.
Reichert's exit doesn't mean an end to Austin's "Sekrit Theater." Listing agent Vonne says she was hired to find a buyer committed to preserving the unique retreat. She points out a new owner can their own mark on the property's remaining open spaces.
Related:
Source: Zillow Feed