Amy Haimerl and her husband, Karl, bought a gorgeous, dilapidated home in Detroit in 2013 – just six weeks before the city declared bankruptcy.
It was a low point for the area, marking a tragic confluence of decades of job losses with an economic hammer blow from the housing crash. The result was thousands of abandoned homes, overwhelmed police, overflowing uncollected garbage, and streetlights that were rarely on.
Amy and Karl had recently moved to Michigan from New York City. Rather than go back, they found hope and inspiration in a historic home they call "Matilda," and amid Detroit's bulldozing and rebirth, they rebuilt the home. We chatted with Amy about her book chronicling the experience, "Detroit Hustle: A Memoir of Life, Love and Home."
In the book, you make clear your love of your former Brooklyn neighborhood, Red Hook. You thought you'd return there after your fellowship at the University of Michigan. How did you choose Detroit instead? 
What we loved about Red Hook was the community that we'd built there. It's this post-industrial fishing village on the edge of New York City that has been forgotten about. It used to be the crack capital of America, and it's risen to be this really beautiful and amazing community of people.
Red Hook is really hot right now, one of the "it" neighborhoods. But when I got there in 2007, it wasn't that yet. It was this beautiful cast of characters who were iconoclastic and committed to each other.
When I got the fellowship at the University of Michigan, we left thinking that obviously we would come back. And then Hurricane Sandy hit, and devastated Red Hook in particular. I was a little nervous about what happens when it floods again.
It was a difficult decision, but we started exploring Detroit. And my husband really fell for the city, more so than I did at first. Once we found the crazy house, that sealed the deal.
The way you describe Red Hook when you lived there sounds a little like Detroit.
I always say that Red Hook is Detroit writ small: similar demographics, similar abandonment and disinvestment, similar tight-knit community, and a similar chip on our shoulders.
There's a little bit of a chip on the shoulder here in Detroit, too, about newcomers and everybody wanting to study the city. There's a huge population here – a middle-class, primarily African-American group – that didn't leave the city when they had the opportunity, when everybody told them they should. Their stories get ignored. I try to be very clear that we are newcomers.
You had reservations about the cost and effort of renovating Matilda. What led you to go for it?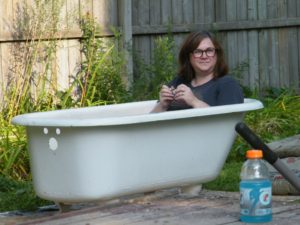 The best way I can describe it is when you fall in love with somebody, you just sort of know. There's no great explanation. We'd looked at other houses, and there wasn't a lot coming on market that was "move-in ready," which at that time in Detroit basically meant it had power and water. When we saw Matilda, we just walked in and she felt right.
Everything was dim. There was mold everywhere. There was water running through the ceiling in places. I was kind of talking to the house and saying, "All right, are you our house?"
All of a sudden the streetlight turned on, which was amazing at that time. And then a giant white cat walked across the roof. [Editor's note: Jack Cat, as the couple affectionately calls him, became a regular visitor.]
For some reason, the cat felt like a sign. And then this guy came walking across the street, telling us about how he [renovated] his house 15 years ago, and it's going to be no problem.
We know that the house used to be owned by Arthur and Nona Herzog. Arthur wrote "God Bless the Child" with Billie Holiday, and my husband's a jazz pianist – as a hobby, not as a profession – and I started to feeling all these signs and serendipitous moments.
You have a relationship with Nona, although you never met her.
She was, in many ways, the guiding voice in my head during this renovation. So many of our neighbors were really good friends with her, and one of them in particular has told us stories of Nona's garden – she loved roses and peonies – and her great laugh.
As I struggled through the renovations with either a decision or feeling overwhelmed, Nona was sitting there with me. I had conversations with her about what we were doing, and [asking if they] were the right choices.
Walk us through the shape that Matilda was in when you found her.  What was missing structurally?
Everything. I mean, we basically rebuilt the house inside three walls. I can't even say four walls, because the south wall was stucco, and the stucco was sloughing off. There were no pipes, so it needed all new plumbing and all new electrical, all new heating – a new furnace, all the ducting.
We had to buy all new toilets. We had to buy all new sinks. We had to buy all new kitchen appliances. We had no interior doors. We had to buy light fixtures.
Everything that you walk into a house when you buy it normally and you're like, "Maybe I would like a prettier one someday" – yeah, there was none to begin with.
How much does a project like this cost?
We bought the house for $35,000, and we have about $400,000 in rehab costs. Had you told me that when we first started looking at Matilda, I would have thought you were crazy. We thought we needed about $130,000 to do the rehab. That was barely enough to start dealing with the mechanicals.
As we learned, the cost of renovation is about the same anywhere in the country, plus or minus 10 percent. There is no "you live in Detroit" discount at Home Depot.
We've been criticized for spending that money in Detroit, as if Detroit isn't worth investing in. But it is to us. And maybe others could rebuild a house themselves for less – and that's amazing! – but this wasn't a DIY-level project for us. It's a 100-year-old historic home we were trying to rebuild for the next 100 years.
So we worked with amazing contractors who are Detroit natives – Cal and Christian Garfield. I am the daughter of a small excavator who taught me never to be cheap. Always pay a fair price for quality work, because it saves so much money in the long run.
The money will sound crazy to some, but for us, our monthly carrying costs are less than they were in New York, and we get a beautiful home in an amazing community.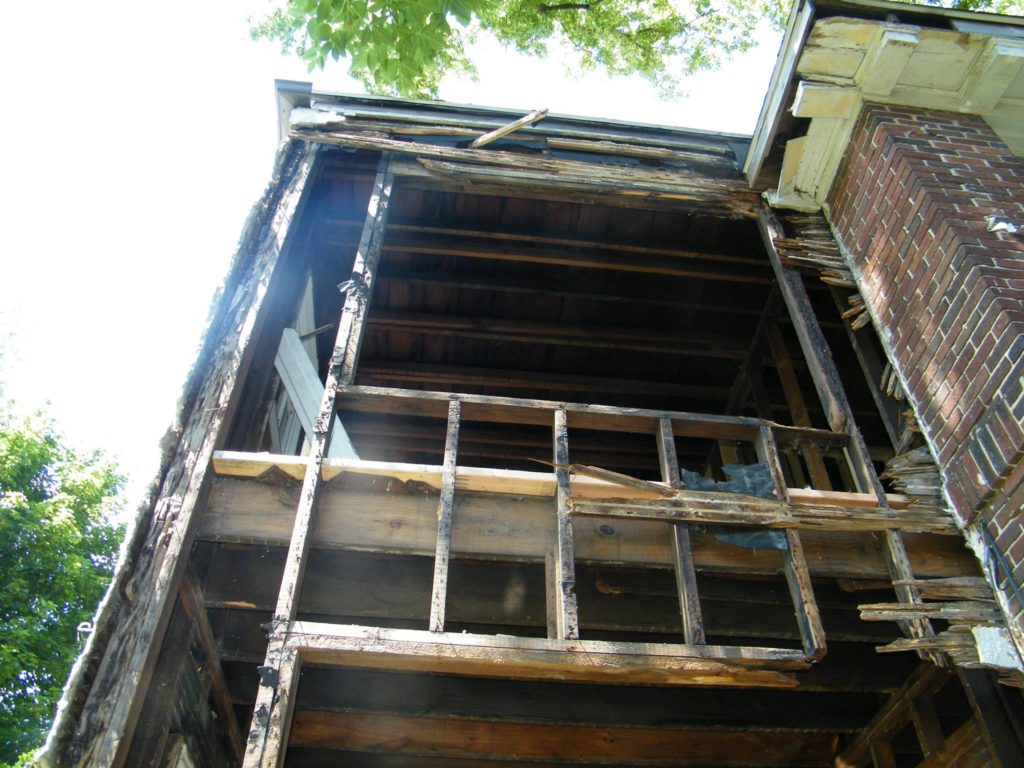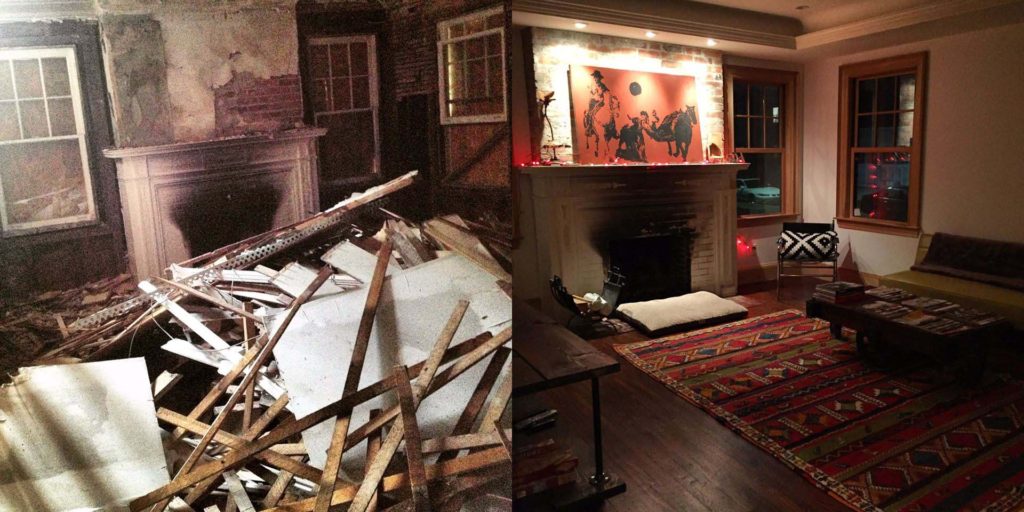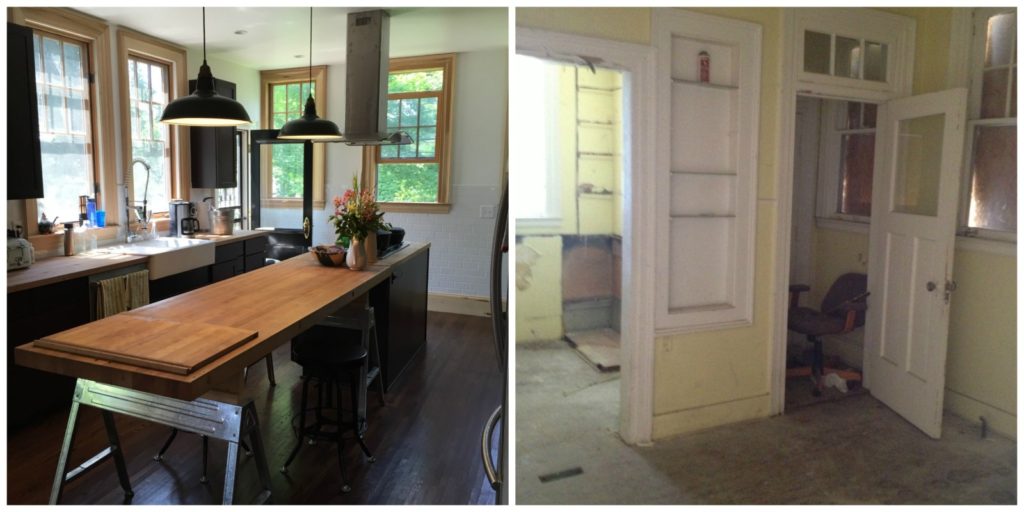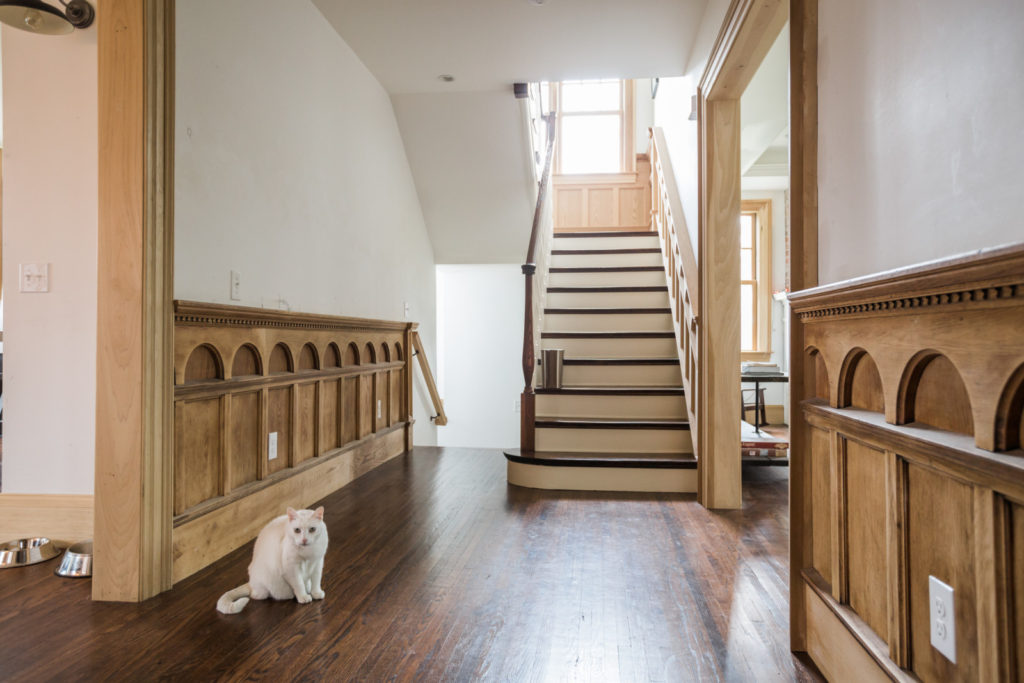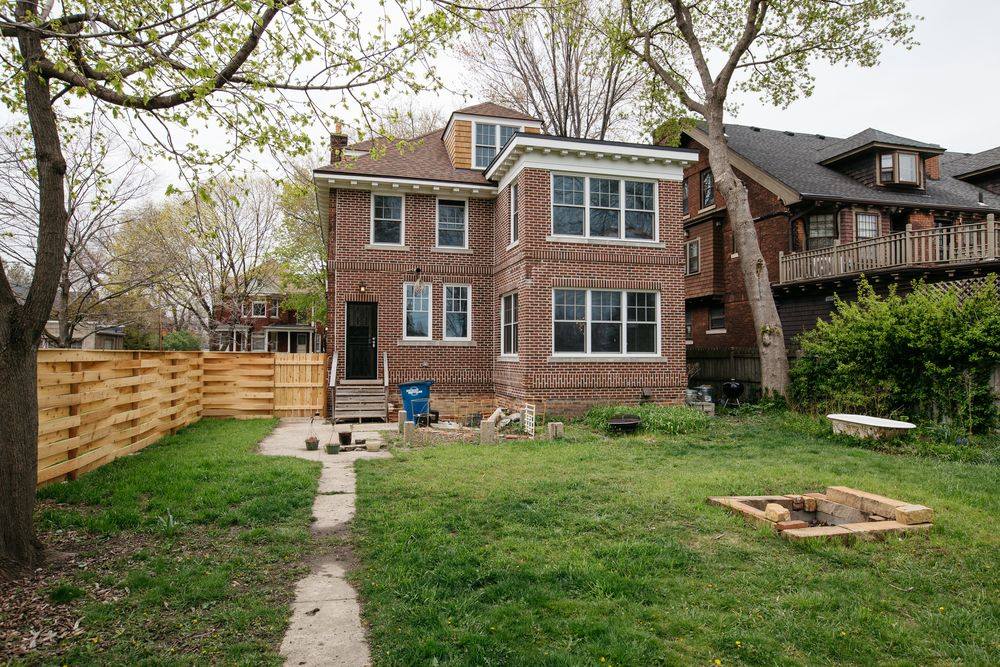 Photos courtesy of Amy Haimerl
What's your favorite part of the home?
The salvaged wainscoting from an old local church is really amazing. It's this deeply arched, almost Gothic paneling that the church had in its gallery. Even though it's not original, it brings an extra level of history to the house.
The church was scheduled to be demolished, which is why we were able to get a bunch of doors and the wainscoting. And then it wasn't demolished; it actually burned down under somewhat sketchy circumstances.
I was so glad that we were able to save these pieces, and yet it was like: this city has been scrapped.  So many people have just come in and taken things – either souvenirs, or copper to sell, or whatever – for their own profit. That made it feel weird, but I've made my peace with it. Our Matilda has a piece of that Detroit history in it, and that's really special to me.
Has Matilda been worth it? Would Nona love it?
I lost one of her prized rose bushes, so she might not be happy with me about that. We had to take the fence down to be able to get some stuff into the backyard, and the roses did not survive.
But absolutely, the house has been worth it for Karl and me. We love it. We love Detroit. We are not here to flip this house. We're here as long-time community members.
This is where we plan to live our lives, to grow old, to retire. And so whatever we put into it, that was an investment in our lives and our community, and being a part of this wonderful place that is Detroit for the long term.
Related:
Source: Zillow Feed