When the folks at New Frameworks set out to build or restore a home, they aren't just thinking about the individual needs of their client – though that is central to their work, of course. They also take the bigger picture into account, particularly their ecological and social impact, which weaves its way into every facet of the business.
Based in Vermont, New Frameworks places an emphasis on using locally sourced, low-impact materials in their projects. These have become trendy buzzwords in construction, but New Frameworks takes them seriously, looking for materials that not only don't harm the environment, but can, in fact, help restore it – and contribute to the local economy to boot.
"Our real goal is to build regeneratively, meaning that our projects actually grow good things rather than result in bad things," says co-founder Ace McArleton. "For example, we live in Vermont and are based mostly in Vermont, and it's a pretty forested region. So for us, wood – when managed sustainably and responsibly – is a resource that we believe can be worked with and harvested in a sustainable way. We work with sawyers and loggers and millers in our region, which also supports our small economy here and economy of place."
In addition, since wood comes from trees, "it's carbon sequestering," explains McArleton. "So the trees utilize carbon dioxide to grow, and therefore fix, carbon in the body of their wood," and can ultimately help mitigate global warming.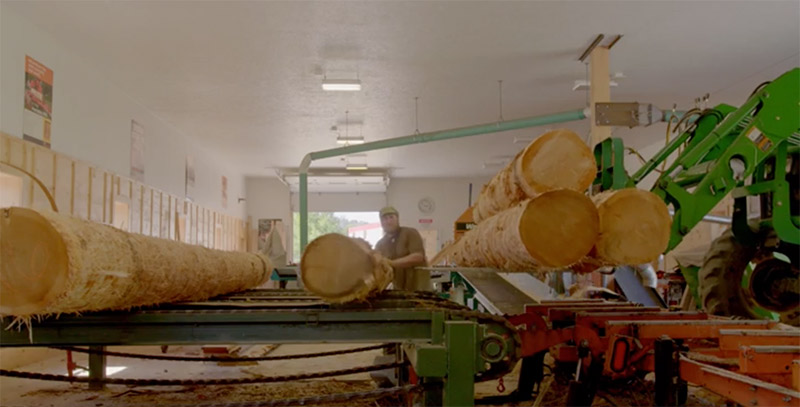 New Frameworks often uses straw as an insulation material in the walls, employs primarily natural paints and plasters, and opts for sand from local quarries. Sometimes they even source sand or clay onsite at the project. Reclaimed materials play a large role as well, and the builders are often able to repurpose discarded items, like timbers from a barn, both in the current project and future ones.
"It's really wonderful," says McArleton, "creating relationships with the materials that we work with and feeling passionate about those social relationships that produce them, as well as the farmers and loggers and foresters and people in our area and community, which is the whole experience."
A natural touch
As an extension of the company's earth-friendly philosophy, natural motifs often find their ways its designs. "Our lead designer, Ben Graham, loves to do a touch of natural wood elements," explains McArleton. The builders will incorporate a natural tree fork branch to hold up a beam, for example, or have the clients select a tree from the property to use as a round tree post with "some visual scribe."
Or, if the client has a more clean, modern aesthetic, the design might incorporate recurring natural patterns, like curves and honeycomb. "We like to find even that little hint of it somewhere in the project," McArleton says.
The three co-founders of New Frameworks – McArleton, Jacob Deva Racusin, and Ben Graham – apply their ethical building philosophies to their own homes. "Some of us have built our own from-scratch, timber frame, straw bale homes off the grid using solar, etc.," says McArleton. "And then some of us have chosen to be in more town or urban settings where we have worked with existing buildings. Then we rework with natural solutions, interior finishes, doing retrofit work on existing homes – which is another aspect of our work."
Graham, for example, bought an old home in downtown Plainfield, VT, then made additions like sheep's wool wall insulation and a thermally high-performing door that New Frameworks designed and built.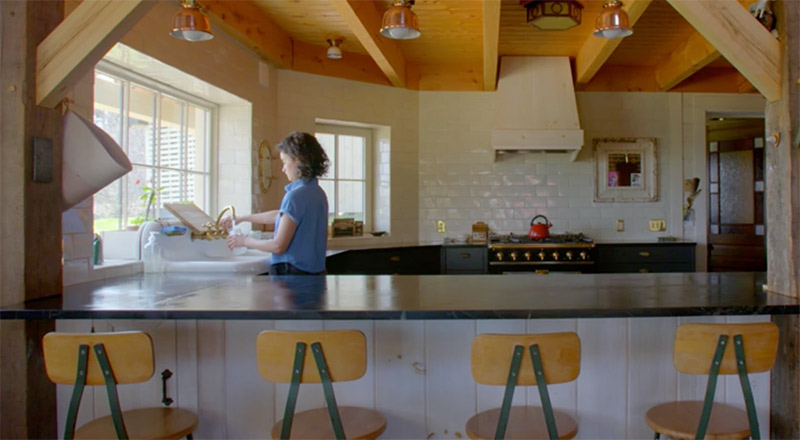 The company's social justice-driven ethos goes well beyond building, and is represented in the very structure of the company. They place an emphasis on mentoring women and trans folks in this male-dominated industry, and are a worker collective. "We just feel so strongly about organizing ourselves internally in a democratic and inclusive way that shares ownership and builds leadership in our organization," explains McArleton.
So often construction results in an unconscionable amount of waste. But New Frameworks believes that building a home doesn't have to make a negative impact, and can, in fact, contribute positively to the environment, society, and the local community.
Related:
Source: Zillow Feed