Big life changes happen, and fluctuations in your retirement income may call for downsizing. But if assisted living isn't for you, where will you head next?
There are more options than just moving into a small apartment by yourself. Nontraditional senior living arrangements are on the rise, and more seniors are choosing to live in RVs, houseboats, and tiny homes.
Living with roommates
Have you ever watched an episode of "The Golden Girls" and dreamed of having fun roommates of your own? Retirement is your opportunity to make it happen and reap the benefits.
Have fun with shared interests. The best roommates are those who are also your friends. If you like to do the same things, you will always have someone to do them with.
Cut your bills in half. The best part about having a roommate is the reduced living expenses. You'll cut utility and maintenance costs in half – or save even more if you have multiple roommates.
Be close to help in an emergency. Unlike living alone, you'll always have someone around if you need medical assistance. Let your roommates know if you have any medical conditions. They can be lifesavers.
Create a sense of community. With shared household tasks and responsibilities, you'll create a small community with your roommates. The more everyone pitches in, the more tight-knit your community will be.
RV living
Why choose just one place to live? Living in a recreational vehicle means living untethered. You'll love the adventure and freedom that comes with living anywhere you want, with no schedule to keep.
Take the grand American tour. With an RV, you will never have to worry about going through airport security or fitting all your belongings in your suitcase. You can travel the country on your own terms by bringing your home with you.
Join a community of like-minded individuals. As you travel, you'll meet people you may not have come across otherwise. It's easy to make new friends while warming your hands over the fire or walking your dog. And if you don't like your neighbors, you can move!
Save money with a lower cost of living. RV living isn't free, but it costs much less than owning a house. Say goodbye to that mortgage.
Visit distant relatives. Haven't seen your grandchildren in a year because of travel expenses? With an RV, it's only a matter of driving in the right direction.
Houseboat living
Want to fall asleep to the sound of waves lapping against your boat? Or wake up and jump straight into a kayak? Then houseboat living may be just for you.
Travel the nation's rivers. When you call the wide-open lakes and rivers your home, there is always somewhere new to go. America's Great Loop is a connecting waterway that goes straight through America's heartland, from Canada to Florida. You have the whole length of it to explore.
Relish the joys of no yard and no neighbors. While your houseboat may need maintenance from time to time, living on a houseboat means saying goodbye to mowing the lawn and shoveling snow. The best part? No one can build anything to block your amazing views.
Appreciate the wildlife and scenery. Wake up to golden skies and enjoy sherbet sunsets from your deck. Deer, dolphins, otters, turtles, and moose can all be everyday visitors depending on where you decide to go.
Forget property taxes. Some states require personal taxes, but boats aren't considered real property like homes. You won't have to pay property taxes if you live on a houseboat.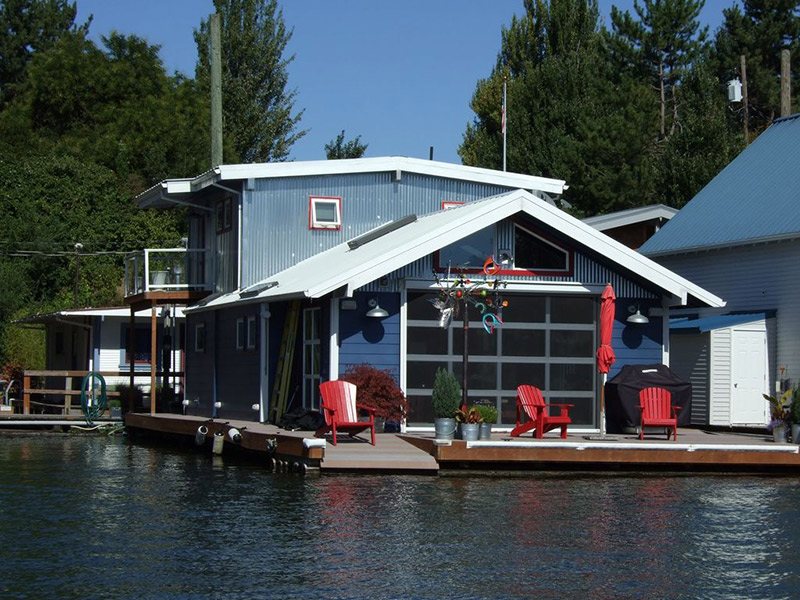 Tiny home living
In recent years there has been a tiny home movement, especially among seniors. Tiny homes are generally 400 square feet or less, and can be on either wheels or foundations. Retirement is the perfect time to downsize and save money – why not take it to the extreme?
Simplify your life. In a tiny home, you don't have room for lots of stuff. You can stop worrying about material things and start enjoying the great outdoors. You will find you come to care about experiences more than belongings.
Help the environment. A tiny home means you will conserve resources with your small living space and reduced carbon footprint.
Cut your cost of living. Your utilities, taxes, and maintenance costs will decrease when your home is less than 400 square feet. You may find you have extra spending cash to pursue new hobbies.
Enjoy having less to clean and maintain. When you don't have 2,000 square feet to clean, you will have much more time to pursue activities you enjoy. Never spend a whole weekend cleaning your garage again.
As you figure out your next move, think about what truly gives you joy. Do you prefer moving around the country, seeing your grandchildren and family as you please? Or does designing your new tiny home appeal to you?
These alternative living arrangements are cost-effective and the perfect opportunity for a change of pace. Now is your chance to change your life and do what makes you happy – traditional home or not.
Related:
Source: Zillow Feed